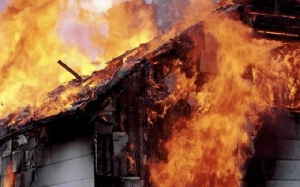 The Nasara Group of the New Patriotic Party (NPP) in the Tain constituency of the Brong Ahafo Region has urged National Security to investigate alleged threats of arson in the build-up to the 2016 polls.
The party, in a press release, alleged that one Emmanuel Gregory, the Youth Organiser of the National Democratic Congress (NDC), had made comments on Me Man Nti, a political talk show aired on Tain FM, on 17th October, 2016, that a political party was planning to set ablaze houses belonging to northerners in the constituency.

According to the statement from the NPP in the Tain constituency, they have no hand in such plots and the comments are meant to cause fear and panic.

The statement also indicated that if anyone had such a plan, it would be the NDC, which would later turn round to accuse the NPP of committing such acts in order to cause disaffection for the opposition party.
"Another treasonable alarm has been raised but not by any other person than the Youth Organizer of the National Democratic Congress, Emmanuel Gregory, alleging that there is a particular political party in Tain which has made a deliberate attempt to burn down the houses of northern dwellers in Tain. The New Patriotic Party unreservedly disassociates itself from this mischievous intention and we are calling on the offices of the security service to take it up to interrogate Gregory to substantiate such wild and undomesticated allegations," the press release indicated.

The Tain NPP Nasara Group said it "cannot fathom why they (the NDC) have reduced their political message to the northern saga," adding: "In our wisdom, we believe that the NDC wants to perpetrate that evil to shift the blame to their opponents. Let us live peacefully with each other devoid of chaos and anarchy."