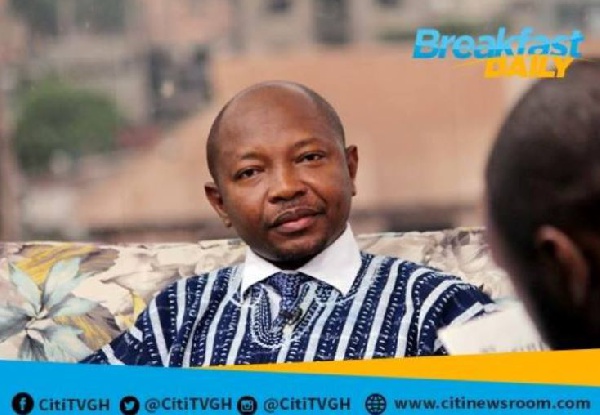 National Youth Authority CEO, Abdulai Mohammed Mubarak, known more as Ras Mubarak, has endorsed intentions by Ghana's police chief John Kudalor to blackout social media on the day of the November general elections.
"I am completely in support of the Ghana Police Service on its intention to black out social media on Election Day," Mr Mubarak said on Facebook.

"I have suffered such abuses recently when a very vile propaganda was started on social media and picked up by irresponsible main stream media including the Daily Graphic and Joy FM. The story was that I had been chased away in my own backyard by irate youth. Not only was the story untrue, but a video of an event that reportedly took place in Nigeria, a year or so ago, was used as evidence to back up the lies," the governing National Democratic Congress' parliamentary candidate for Kumbungu constituency said.

Mr Kudalor on Thursday May 26 told journalists at a media briefing that blocking access to Facebook, Twitter, and other social networking sites, could be on the cards for the security of the nation during the ballot.

The IGP suffered a torrent of criticism from Ghanaians following his remarks but appeared unfazed when he told Class News' Atiewin Mbillah on Friday May 27 that: "I don't want to use some words, I think everybody has his opinion, everybody is entitled to his opinion. I'm talking as a security person, and I know where I'm coming from and I know what has happened. …The world is now a global village and we have to compare with best practices, so, I don't see what they are talking about. If it gets to the crunch,… I think there is nothing that can stop anybody from going that way if it's necessary."

Mr Mubarak said he supports the IGP because "our media is irresponsible and jumps on every opportunity to regurgitate lies picked up on social media."
However, on Saturday May 28, Communication Director of the opposition New Patriotic Party (NPP) Nana Akomea said the IGP's hardline stance on such matters will not bode well for his time in office.

"If he starts going down this kind of route, he risks becoming the worst IGP in our history. There are problems with radio – serial callers call into radio stations and make all kinds of allegations. The police on the streets, some of them collect bribes. So, are we going to get the police off the streets because some of them collect bribes? Are we going to shut down radio stations because some of them give inaccurate information …? Are we going to do that? So, there's a problem," he said.

Mr Akomea admitted that there were problems with the media in general, not least social media, "but the solution should not be a ban".

"You will be throwing the baby away with the bath water and you will be taking our democracy down to the level of Uganda and Zimbabwe and some of these countries that we hear things that we are not happy about," he warned on Newsfile on Multi TV on Saturday May 28, 2016, telling the IGP: "Ghana has gone way ahead of that and don't seek to drag us back."

He said if care was not taken, the move could fuel perceptions that government was not interested in transparent elections.
He said the media, since the advent of the fourth republic, have "played their part so well", particularly during elections, by offering "instant reportage" of happenings at polling stations nationwide, a practice that had "enhanced transparency and democracy" in the country.

In his estimation, for that "yeoman's role" played by the media, any talk of banning them on social media on voting day "will take us back". "It is horribly unfortunate," he added.

Rather than put a freeze on social networking sites, the former Employment Minister suggested the IGP and the Ghana Police Service harness the benefits of social media. "There are tremendous advantages with social media, like any media. So, what you should be thinking about is the cure. There are technologies that are available and shutting down social media will require a certain amount of technology," offered Nana Akomea, who was also Okaikoi South MP for four consecutive terms.

"Why don't you find the technology that can allow you to trace unpalatable [behaviour] and people who will abuse social media? That is not forward-looking."

Also, Editor-in-Chief Kweku Baako Jr has warned that a ban on social media will cause him to hit the streets in protest.
The senior journalist said he will join like-minded people such as Prof Audrey Gadzekpo to march against the Inspector General of Police should he dare carry through his intention.

Prof Gadzekpo of the School of Communication Studies at the University of Ghana warned in an interview with Class News that the move "is too much of a knee-jerk reaction to social media".

"What they will also now begin to encourage is the culture of going underground to communicate. It is better for them to allow citizens to communicate the way they want to communicate. Social media is here to stay just as how radio, television or any other platforms of communication exist," the academic added.

Mr Baako, who is in good company with Prof Gadzekpo told Samson Lardy Anyenini on Newsfile that he was prepared to join any mass protest on the streets against the decision if implemented.

Mr Baako said: "I'm not too sure in terms of the exactitude and precision of what exactly the IGP said or was saying or meant to say... but in terms of the principle, I am on retirement relative to demonstrations, but if ever that kind of policy is put in place, then I will be the first person to hit the call on Madam Gadzekpo and be on the streets."
He added: "I believe the society, as a civilised law governing society, we should be striving for responsible speech or responsible use of media outlets, whether traditional media or social media. That is what we should be striving for, but if it comes to the extremes, choosing between the culture of silence and ugly noises, I will prefer the latter to the former."