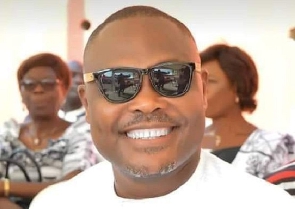 Member of Parliament for Cape North Constituency, Dr. Kwamena Minta Nyarku, has observed that the building of the National Cathedral is unnecessary and not a priority.
According to him, building a cathedral isn't synonymous with us being religious.

"Religion is a divine conception of the heart," he said.

He adds that we all go to church, and in his view, the government didn't need to build the cathedral in the first place.

"I'm a member of the Sports, Youth and Culture Committee of Parliament and we kicked against the National Cathedral. It's a singular decision by one man and assuming the NDC comes to power and decides not to continue, then what happens?" he quizzed.

Ragga as he is known popularly shared that, the biggest cathedral ever built is in Cōte D'Ivoire.
"Didn't they experience civil war? So, what is the essence of building one in Ghana? Not a good project to embark upon by government at this difficult time particularly so when the president, Nana Addo has admitted we're in an economic mess," he added.

Dr. Kwamena Minta Nyarku made these disclosures when he spoke on GBC Radio Central's special morning show on Monday, January 9 January 2023. The programme was hosted by Gideon Asmah aka MC Mr. Smile, as our guest host, to assess the two years he's led the people of Cape Coast North Constituency.

When his views were sought on the current NDC crop of leaders, he intimated that they represent the leaders the NDC wants and the reason why they won.

"I think they are not propagandist as claimed by some. They are solid people who speak their minds and are loud. No one has more institutional memory than Asiedu Nketia and his winning was what the delegates wanted. When leaders are elected, they need the support of all of us to succeed," he said.

In sum, he said, if the National Democratic Congress could organize a successful presidential and parliamentary primary, select formidable PCs, and work together in unison, they would win the 2024 elections.