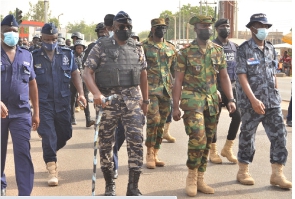 Renewed clashes between members of the Gonja and Mamprusi tribes in the Lukula community, located in the North Gonja district of the Savannah Region, has resulted in one death and injuries to others.
The deceased has been identified as Naa Salifu Nachinaa, a 70-year-old Mamprusi chief from the Kuwerigu Community, who was tragically shot dead in his home by unidentified gunmen.

According to a citinewsroom.com report, the Savannah Regional Minister, Saeed Jibril, explained the genesis of the conflict in an interview saying, "The problem began in 2019, two traditional paramountcy are claiming ownership of land. One person is reportedly dead, and he was from Mamprusi.

"Sadly, policemen deployed to the area were involved in an accident, but they are all alive now. The clashes have been on for two days now, people in Lukula, and other villages have fled the towns except the police".

Tension had been escalating in the area in recent days, stemming from a long-standing rivalry between traditional warriors from the Wasipe Traditional Area in Daboya and the Soo Traditional Area in Janga.

The clash, which according to the report erupted in the early hours of Thursday, has also led to the burning of several houses, with unconfirmed reports suggesting that the violence has spread to neighboring villages.


Meanwhile, watch a snippet of GhanaWeb TV's latest program that focuses mainly on Everyday People below:





You can also watch the latest episode of People & Places on GhanaWeb TV:




Meanwhile, watch the latest episode of SayItLoud on GhanaWeb TV below:




Watch the latest edition of BizTech and Biz Headlines below:








AM/SARA