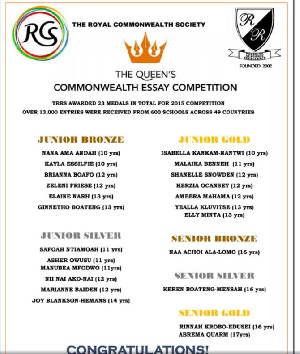 Wed, 30 Sep 2015 Source: Press Release
The Roman Ridge School (TRRS) wins a record breaking twenty-three (23)medals in the Queen's Commonwealth Essay Competition 2015 – the most of any school in Ghana.
During a Special Awards Ceremony held on 17 September 2015, Mrs. Valerie Mainoo (Principal, The Roman Ridge School), congratulated both students and teachers on their outstanding achievement.

She went on to state that these impressive results are testaments to the excellent quality of English instruction and programmes running throughout the school.

Rev. Dr. Joyce R. Aryee (Chair of the Academic Board of Governors, TRRS) extended a message of special congratulations, proclaiming it as a

victory for both The Roman Ridge School and for Ghana as a whole.
For 132 years, the competition has inspired thousands of young writers from all over the world. Run by the Royal Commonwealth Society (UK), this schools' international writing contest – the world's oldest and largest – is a highly regarded and popular international education project.

In 2015, over 13,000 young people from 600 schools across 49 Commonwealth countries and territories took part. 92 judges scrutinised entries around the theme, 'A Young Commonwealth,' inviting young people to share their hopes and concerns for the future, thereby generating an important youth perspective and Commonwealth wide dialogue as the international community gathers to set development goals for the next 15 years.

Only 3,000 out of the 13,000 entries were awarded Bronze, Silver or Gold medals.

Pupils of The Roman Ridge School captured an unprecedented 23 medals (7 Bronze, 7 Silver & 9 Gold) across both the Junior and Senior categories, far and away the most of any school in Ghana.
Source: Press Release