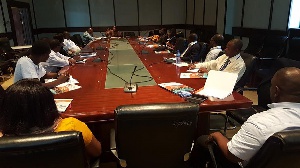 Sun, 20 Aug 2017 Source: Clifford Frimpong
Two NGOs working as intermediaries between extractive companies and local host-communities in the Western and Brong Ahafo regions, last week met together with the Philanthropy Forum-Ghana to discuss strategies towards accelerating development within their areas of operation.
The meeting, which took place from August 8 to 10, was hosted by Newmont Ahafo Development Foundation, NADeF, at its office at Ntotroso in the Brong Ahafo region of Ghana.

The conclave was organised for the NGOs to share their stories about their successes and challenges as well as strategies for achieving sustainable development in the communities under their purview.

With about a decade's worth of experience in the field, NADeF was also to use the platform to share its wealth of knowledge and expertise with its nascent counterpart, the Western Region Coastal Foundation, WRCF.

The WRCF, like NADeF, is essaying to drive socio-economic growth in communities within the catchment area of players in the Power sector as well as Oil & Gas companies based in the western region.

During the two-day engagement, the represented organisations discussed a range of issues centered on how indigenous communities could leverage their natural endowments to undergird their own development.

Issues addressed included: strategic multi-stakeholder engagement and grassroots participation in the developmental agenda.
Other discussions bothered on pragmatic needs assessment and prioritization as well as proactive maintenance culture.

The Executive Secretary of NADeF, Ms Elizabeth Opoku-Darko, emphasised the need for effective multi-stakeholder engagement, saying it was key to eliminating the issue of mistrust between companies and their 'landlords'.

Ms Opoku-Darko bemoaned the lack of maintenance of social facilities by the locals and the authorities.

This, she said, constituted a major setback to growth.

She called on leaders of host communities to invest their royalties in high-priority projects that not only addressed their short-term needs but also benefitted posterity.

On his part, the President of PF-G, Dr Ben Ocra, who led his delegation, challenged the NGOs to be resourceful in coordinating the interests of both the natives and expatriate companies.
Dr Ocra also advised indigenous communities not to over-rely on the MNCs but instead, make the most of existing opportunities in their areas to push forward their own development.

Mr George Owusu, who led the WRCF team, highlighted the critical need for effective monitoring and evaluation of projects in the communities to help develop strategies in bridging the gaps within.

He noted that the WRCF would incorporate in its operations, knowledge gathered from the meeting and, would also fall back on NADeF for technical expertise to enhance its work.

As part of activities for the two-day engagement, Ms Rachel Anima-Boahen, Project Coordinator at NADeF, led guests to visit the Foundation's community-based facilities within the Asutifi and Ahafo districts in the region.
Source: Clifford Frimpong