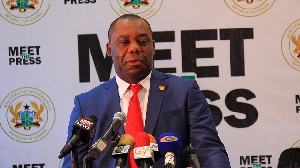 Mon, 13 Aug 2018 Source: Radford FM
The Sissala East Municipal Assembly has awarded contract for construction of three unit classroom block each in three communities in the municipality.
The beneficiary communities are Challu where its Basic school B lack a JHS block but study under shelves for more than four years according to the headmaster Mr. Lurimua Mahmoud.

He said the shelves serving as JHS block were not also situated in the school premises but in someone's compound where there was not enough space to carry out effective teaching.

The other beneficiaries included Kowie and Kassana, places where their Basic schools face an infrastructure deficit.

During the handing over of contract documents to contractors on site, MCE Hon. Karim Nanyua stated that education is important and has become the president's vision to have every child be in school and therefore the need to build schools.
He urged parents to send their children to school. The contract sum of each of the facility is a hundred and fifty thousand Cedis and will take six months to complete each project starting on 8th August 2018.

Mr. Karim Nanyua Municipal Chief Executive of Sissala East charged the contractors to use local content and ensure to meet the timeline.

He also urged community members not to ask for building materials to be sold to them since that result to construction of weaker buildings to their own detriment.

It is a DDF facility.
Source: Radford FM