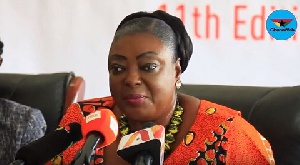 Mrs. Freda Prempeh, a Deputy Minister of Works and Housing on Monday, inaugurated three mechanized boreholes for some farming communities in the Tano North Municipality of the Brong-Ahafo Region.
The Deputy Minister who is the Member of Parliament (MP) for Tano North Constituency said Stanbic Bank supported her to construct the boreholes to provide potable drinking water for the residents of Mamponteng, Dedeboa and Twoaho communities.

According to her, the water projects, estimated at the cost of thousands of Ghana Cedis, had brought a great relief to the residents who walked several kilometres to fetch water from nearby streams.

The Ghana News Agency (GNA) gathered that residents in the beneficiary communities suffered from outbreak of water-borne diseases because they depended on and shared streams with stray animals.

Mrs. Prempeh assured deprived communities in the Constituency of her willingness to ensure that they were provided with basic social amenities and facilities to make life comfortable for them.

The MP later supplied second-hand clothing and footwear to school children in the communities and advised parents to support their children to study higher in education.
At Dedeboa, Noah Inotu, an opinion leader, thanked the MP for the water project and appealed to her to help in the establishment of basic school in the community.

The three beneficiary communities have a common challenge of lack of electricity, health facility and basic school and therefore appealed to the MP for the provision of those social amenities to enhance their standard of living.

Mr. Francis Ayisi, a Bank Manager, Stanbic Bank, Accra, advised the communities to take proper care of the facilities by ensuring regular maintenance.

He said the Bank was determined to ensure that life was comfortable to especially people in rural areas, hence, it was implementing several corporate social responsibility programmes to improve on the socio-economic livelihood of the people.