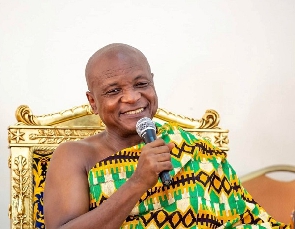 Sat, 24 Jun 2023 Source: GNA
The Asogli State would this year, mark two decades of the reign of Togbe Afede XIV, its Agbogbomefia.
Togbe Afede was installed in the year 1993, and this year's Te Za, Yam Festival is being designed to celebrate him, a renowned entrepreneur who is among the nation's most reputed traditional leaders.

The annual festival has gathered steam in recent years and has become a popular event on summer calendars with visual enchantments deep sated in colourful tradition and culture.

The Agbogbomefia, speaking at a recent coronation of new leaders for the State, made mention of the festival, and said it would continue to be a canvas for the promotion of African traditional culture and wealth.

He noted the growing reputation of Asogli which he said must be enhanced by the chiefs and the people.

"Doors are opening for Asogli because of our growing reputation, and we need to uphold it," Togbe Afede said.
Steven Tetteh, Secretary to the State, told the GNA preparations were underway and that a media launch within the coming weeks would officially commence the festival.

Highlights of the glamorous event include the hailing of the new yam; a traditional ceremony at sundown that brings out the entire community in a street-clogging procession and is one that natives in the diaspora hardly miss.

The grand durbar has also become a popular event drawing the attendance of many political and non-political leaders, and also corporate organisations far and near.

The State Secretary told the GNA how Togbe Afede's ascension to the throne had cemented the festival as a platform for unifying Asogli for development, and that the planning committee was on the task of delivering a more impacting event this year.

Last year's festival, which was a return from a two-year coronavirus induced break, made waves with a series of events including an anti-corruption day celebration, a youth forum, and a conference of traditional leaders of Ewe communities in West Africa.
The GNA has caught wind of the lineup for the 2023 event, among which would be the launch of a foundation, and the usual blend of activities to promote the tourism-endowed Region.

Togbe Afede is expected to officially unveil a "Volta City" project, miniature design of which has been teasing visitors to the Asogli Palace since the last event.

The ambitious project would include hundreds of housing units on a serenading landscape somewhere in the Volta Region.
Source: GNA