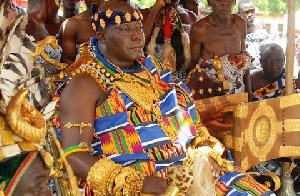 The Asantehene, Otumfuo Osei Tutu II, has launched a US$100 million development fund, expected to be invested in the growth of Asanteman over a 10-year period.
The fund, known as Asanteman Development Fund, an initiative of the Asante Professionals Club (APC), seeks to "invest growth capital in growing businesses that improves agricultural productivity, nutrition health, sustainability and supply chain efficiency," in Asanteman.

It is expected to be anchored with a minimum investment of US$10 million by the Asanteman while US$30 million will also be raised by the Club in the next 11 months.

The decade-long "permanent equity" is targeted to be raised from local entrepreneurs, corporate investors, international impact investors and other potential capital investors.

The launch of the Asanteman Development Fund was preceded by a 'Development Summit' by the APC which sought to come up with the '10-year Development Plan,' which would be financed by the Fund.

All this is intended to modernize 'Asante State' with preserved heritage through infrastructure development, poverty reduction, human resource development focusing on empowered and employable youth, agriculture and rural development.
"The plan will serve as a development blueprint for a coordinated transformation agenda of the Kumasi Metropolitan Assembly and other district Assemblies in the kingdom, Ashanti Regional Coordinating Council and the Manhyia Palace under the leadership of the Asantehene."

Otumfuo Osei Tutu II speaking at the launch of the Fund, during a dinner held by the Asante Professionals Club in Kumasi, as part of activities marking his 20th Anniversary Celebrations, noted that his pursuit has been to bring development to the region through education.

He urged the people of Ashanti to be concerned about the development of the Region and also forge a united front to seek to improve their welfare.

The Asantehene acknowledged the efforts of the Asante Professionals Club and advised them to desist from indulging in any partisan activities that will derail the objectives for which it was established.

The occasion was also used to recognise and reward some outstanding personalities from the Ashanti Region who have contributed in diverse ways to the development of Asanteman.