Regional News Sun, 30 Sep 2018
Ursula installed Development Queenmother at Asuom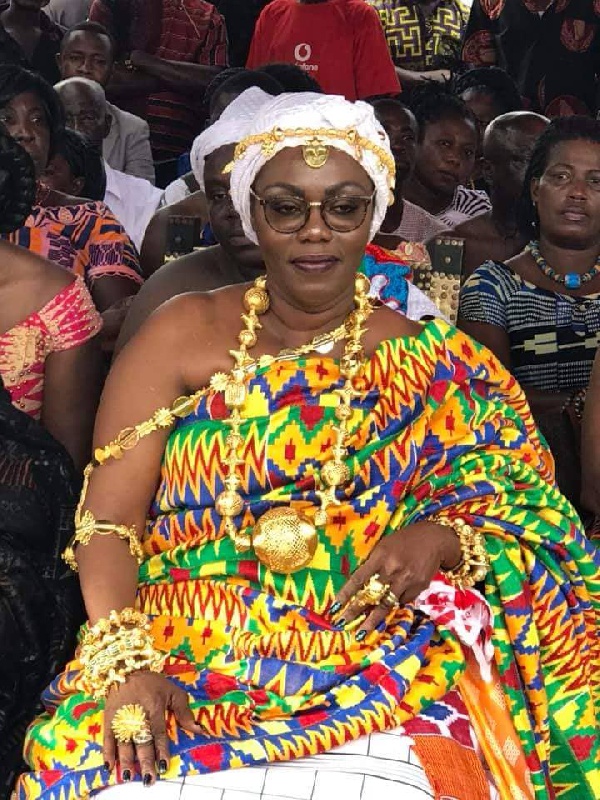 The Minister of Communication Ursula Owusu-Ekuful has been enstooled development queenmother (Nkosuohemaa) of Akyem Asuom in the Kwaebibirim District of the Eastern region with stool name Obaapanyin Abena Bema Oforiwaa Gyankobaa.
ADVERTISEMENT
The enstoolment ceremony took place Saturday September 29,2018 at the Palace of Asuomhene Osabarima Ofosu Apenteng.

The colourful traditional ceremony was attended by family, friends and some government officials. The symbolic sporadic gunshots by George Andah, Deputy Minister to Ursula Owusu-Ekuful at the ceremony added some touch of beauty.

Nkosuohemaa, which literally mean "Development Queen" is non-inheritable traditional position bestowed on revered personalities who are development oriented, Selfless and committed to improving the living standards of the people.
ADVERTISEMENT
Ursula Owusu-Ekuful, an indigene of Akyem Oda which is a neighboring community to Akyem Asuom merited the criteria by the traditional Council hence the enstoolment.

Osabarima Ofosu Apenteng , Chief of Akyem Asuom, said the community is lagging behind in development because access to many basic amenities seems to be a mirage but hopeful that the enstoolment of the Minister of Communication as Nkosuohemaa would help to facilitate development and fix the infrastructural deficit.
ADVERTISEMENT