Regional News Thu, 3 Mar 2016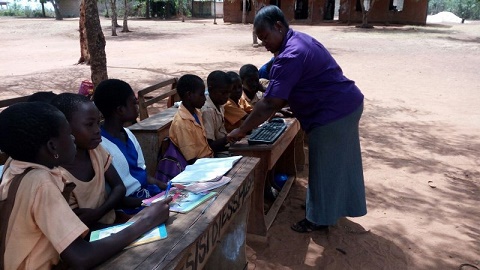 Pupils in classes 4 and 5 of Avorvi D /A Primary School in the South Tongu district of the Volta Region have been studying under trees for the past five years.
During lessons, pupils and teachers are compelled to relocate their tables, chairs and chalk board anytime the sun comes up or the weather goes bad.

Classes are also forced to end on overcast days due to the absence of shelter for students in the event of rain.

Ants on the trees under, which classes are held, bite pupils and teachers, often leading to a disruption of lessons.

Speaking to Class News' Volta regional correspondent Emmanuel Atukpa, one of the teachers, who preferred to speak on condition of anonymity, said learning under trees was a difficult task.

"You will be teaching, before you realise you see the children scattering, (moving their chairs and tables) if you ask, they tell you the sun is scorching them," she said.
"Also there are some ants on the trees that sting teachers and the students. Learning under trees is a very serious problem here and very distractive. It makes learning and teaching difficult. When the clouds gather, we have to close our lesson for the next day."

When Atukpa visited the school, the teacher was teaching ICT under the tree using a keyboard as a teaching and learning material.

Asked how the students could understand ICT without a computer, she explained: "We teach verbally, without practice because there is no electricity."

As a temporary measure, the school was renovating an abandoned mud structure to accommodate the Class Four and Five pupils.