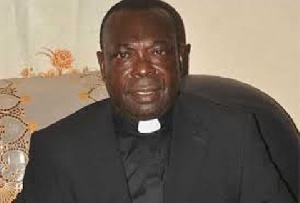 The Christian Council of Ghana (CCG) has urged all churches to pray for a peaceful referendum in the upcoming exercise to decide the creation of six new regions, saying furthering national unity and development should be uppermost on every citizen's agenda.
In a statement to express its best wishes to all Ghanaians, especially Christians, as the world celebrates Christmas to mark the birth of Jesus Christ, the Council also asked Christians to be light to people in the world or wherever there was darkness, and also "establish and uphold justice, peace and righteousness wherever we find ourselves".

There have been proposals to create new regions from the Volta, Western, Northern and Brong Ahafo regions.

"On behalf of the Executive Committee, and Heads of Churches, the management and staff of the Christian Council of Ghana, I wish you the best of the season," a statement signed by the Reverend Dr Cyril G.K. Fayose, General Secretary of the Council, and copied to the Ghana News Agency, said on Monday.
"May your encounter with the baby Jesus renew and strengthen your faith in the resurrected Christ," it said.

Meanwhile, Rev. Dr Fayose, in an interview with the GNA on Monday, urged all motorists to be careful on the road during the yuletide.

He said commercial drivers should "be more careful on our road so that we will not record any accidents on the road, we pray for peaceful celebrations on Christmas and in the New year".