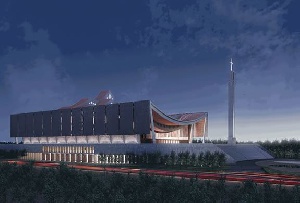 Wed, 21 Nov 2018 Source: The Publisher
Lawyers of James Kwabena Bonfeh, the acting General Secretary of the Convention People Party (CPP) are sure it is not the duty of the government to middle in religious affairs of the country.
He was emphatic not it is not the business of the government to build a national cathedral for the country.

"Its not the business of the government to build national Mosques or shrines. Followers of religions build their own. Places of worship." – he said.

In the view of Aziz Bambara, lawyer for the CPP stalwart, Ghana is a secular state for which reason the government must remain neutral and threat all religions equally.

He told the seven member panel of justices presided over by Justice Sophia Adenyira that the governments decision to provide land and seed capitals as announced by the Finance minister in the recent budget statement to parliament is state entanglement in religious matters.

Lawyer Bamba noted that there was no obligation on the state to provide any assistance to anyone religion.

Responding, Godfred Yeboah Dame, the deputy Attorney General argued among others that stated Lawyer Bamaba's submission is riddled with contractions.
He questioned the claim by lawyer Bamaba that the government could not grant land it holds in trust for the people of the country.

He said there is no issue about of constitutional interpretation urging the court to dismiss the case.

Meanwhile, the court has set January 16, 2019 to deliver its ruling on the matter.

James Kwabena Bonfeh aka Kabila has sued the state over its decision to build a national cathedral in commemoration of the 60th anniversary of independence of the country .

Lawyers of Kabila insist the posture by the government amount to unnecessary entanglement in religious matters contrary to the 1992 constitution.


Source: The Publisher