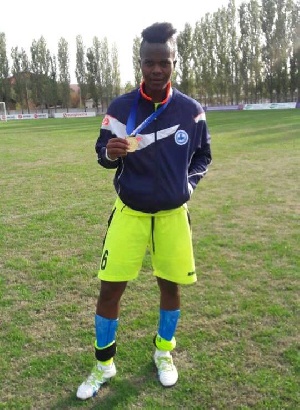 Kenya have been named as a replacement for Equatorial Guinea for the 2018 Women's Africa Cup of Nations (AFCON) after winning a protest.
The Confederation of African Football (CAF) made the announcement on Wednesday, as it prepares to conduct the draw for the tournament on Sunday.

The decision to replace Equatorial Guinea was arrived at by the CAF Disciplinary Board, which upheld a protest from Kenya against the 2012 African champions, over the use of an unqualified player.

Kenya's Harambee Starlets lost the final qualifiers for the 2018 Women's AFCON to Nzalang Nacional, but the Kenyans protested over Anette Jacky Messomo, who had played for Cameroun's Indomitable Lionesses.

Messomo claimed she had naturalised for Equatorial Guinea, but according to the CAF Disciplinary Board, "The Cameroonian Football Federation by a letter dated August 30, 2018, confirmed that the player in question is indeed of Camerounian nationality and that they deny ever receiving a request from Equatorial Guinea in order for Ms. Anette Jacky Messomo to change her nationality."

"In accordance with CAF regulations, all parties were requested to present their responses in regards to the allegations made against Equatorial Guinea's Women team.
"The Federación Ecuatoguineana De Fútbol claimed that the player in question had benefited of her grandfather's nationality and that she has been living in Equatorial Guinea since childhood. However, they failed to support their allegations with sufficient evidence,"CAF said in a statement.

The decision by CAF hands Kenya their second Women's AFCON berth, having made their debut at the 2016 tournament held in Cameroun where they exited at the group stage.

It also deprives Equatorial Guinea a chance to compete for a second Women's AFCON title, having won it in 2012 when they hosted the tournament -- the only side to achieve that feat aside record winners, Nigeria.

The Harambee Starlets will thus join hosts, Ghana, defending champions, Nigeria, Cameroun, South Africa, Mali, Algeria and Zambia for the tournament. The draw will be in Accra on Sunday, October 21.

Equatorial Guinea women's football, since 2014, has suffered similar disqualifications over the use of ineligible players.
They were banned by CAF in 2016 for using an ineligible player and missed out on the 2016 Women's AFCON, but they were reinstated in 2017.

World football governing body, FIFA, has also banned them from competing in the 2019 Women's World Cup as well as in the 2020 Olympic Games, for using 10 Brazilian players and two other players who falsified their documents in their team for the 2016 Olympic Games in Rio.

The Equatorial Guinea Football Federation appealed to the Court of Arbitration for Sports (CAS) in 2017 against the FIFA ban, but the ban was upheld.