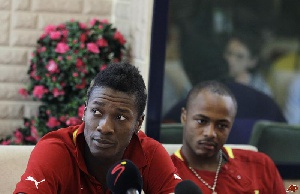 Ghana captain Asamoah Gyan has explained in simple terms that things did not go as expected in their game against Congo on Friday.
Expectations were high ahead of the clash because Uganda posted a 1-0 win over Egypt, and a win over Congo would have revived Ghana's World Cup dream.

The Black Stars fought from a goal down to manage a 1-1 drawn game before Kumasi fans, making it almost impossible to make a fourth streak World Cup appearance in Russia next year.

Explaining what accounted for the uninspired performance, Gyan said after the game that"it's difficult, honestly, it's very difficult. Things didn't go well as expected and we didn't play the way we expected tactically and mentally. I don't know what went wrong but I will say the desire wasn't there today."
"It's one of those days that things did not happen. Nobody is to be blamed but it's one of those days. I don't know what went wrong but I think it's one of those days."

The Stars flew out of the country yesterday for the return leg against Congo in Kinshasa tomorrow.