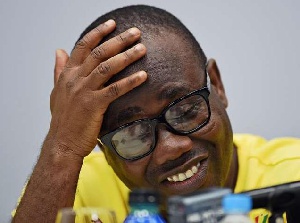 The bankroller of Berekum Arsenal, Yakubu Moro has warned the Division One League Board that he will lead a crusade to boycott their competition should the Ghana Football Association (GFA) charge each of the participating clubs GH?10,000 cedis for officiating fee.
Yakubu Moro said the clubs are not happy with the leadership of Owuoahene Acheampong and they will soon revolt against him.

"I will lead a crusade to boycott the Division One League should the GFA charge us GH¢10,000 for officiating. The GFA is not being fair to us. Our main problem as Division One clubs is Owoahene Acheampong; he has failed to act for us and will revolt against him soon" Yakubu told Kumasi based Oyereba FM.
Yakubu Moro argued that running football in Ghana now is becoming increasingly difficult but [also] very difficult to quit. "Doing football in Ghana is now like witchcraft, [it's] very difficult to quit. I've started talking to my colleague club owners so we will write a resolution to that effect" he said.