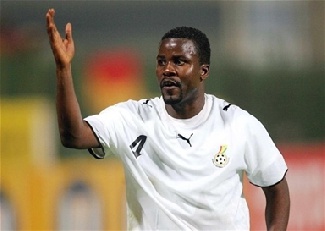 PREVIOUS CLUBS:
Fantomas Kumasi (1983-90), King Faisal (1990-91), AC Torino (1991-93), FC Bayern Munchen (Amatuers, 1993-94), Nuremburg (on loan), Bayern Munich (GER), AS Roma, Livorno, Roma, Ajax
Six time Bundesliga champion

Five time German League cup winnner

U-17 world champion(1991)

U-17 silver medalist(1993)

U-20 bronze silver medalist(1993)

Italian cup winner in 2006

Olympic Bronze medalist(1992)

Champions League finalist(1999) and winner(2001)

Super club champions winner and MVP

APOY runner up

3 time Ghanaian footballer of the year (98,99,01)

Known for his great power and tactical awareness, Samuel Kuffour has the physical presence and nous to unsettle the strongest of attacking players.
National team
Has played at every level and won medals at U-17 world cup GOLD, U-20 silver, U-23 Barcelona Olympic bronze, Gold Euro champs league with Bayern. The only member of the 1992 under-17 team playing for a top European side. A regular for Ghana's national side, he had been their team captain from the age of 23 but was sent home from the 2002 CAF African Cup of Nations over a breach of discipline.
Club
Started to earn money as a shoe shine boy at the age of 14, in the hard ghetto of Ashtown Kumasi. Played bare-footed until his mum sold the family television to buy him boots. First club was Kumasi Envoys, Fanthomas and then King Faisal Moved to Italy where he joined Torino at the age of 16 after Italia 91' (U-17) He joined FC Bayern München in 1993 from the Italian club as a 17-year-old.

Kuffour joined Bayern's youth team when he turned 17 in 1993 after spells in his native Ghana and Italy. Under respected amateur coach Hermann Gerland, Kuffour made his first appearance in Bayern's reserve team and followed that with some Bundesliga appearances. But he couldn't maintain his place and left to join Hermann Gerland's Nuremberg in the second division.

He played 12 times for the club but couldn't help Nuremberg stay in the Bundesliga as they were relegated to the amateur league.

1996: After the loan spell with 1. FC Nürnberg in 1996/97, he made his breakthrough in the Bayern first team. He scored the winning goal in the 2001 European/South American Cup as Bayern beat Club Atlético Boca Juniors 1-0 in Tokyo. That followed his pivotal role as Bayern won the 2000/01 UEFA Champions League, by beating Valencia CF. He has been voted Ghana's Footballer of the Year twice (1998 and 1999) and the second best footballer in Africa in 1999 and 2001.

2002/03: In March 2003, he was given a six-game domestic ban after being sent off for dangerous play in the German Cup semi-finals, but was a key member of the Bayern team yet again as they stormed to a domestic double. Showed tremendous mental strength to keep playing through the season despite the death of his 15-month-old daughter in January.

Plays at the heart of the Munich defence. Arguably, one of the toughest markers in the German league.
Did you know?
He is Bayern's second longest-serving player after Mehmet Scholl.
Other
Back in Munich, the Ghana international became a well-known name, attracting interest from Real Madrid, Fiorentina and Barcelona.

As the years have gone by, he has become more consistent, and less inclined to the errors and reckless challenges that marked his early play. His up-and-down style is perhaps best encapsulated by a game against Frankfurt in the 1999-2000 season.

First Kuffour gave away a penalty after fouling a Frankfurt player - 1-0 for Frankfurt - then he ran into his own keeper Oliver Kahn (who was knocked unconscious, and was out of action for a few weeks) and finally he scored the winning goal at the end of the game to make it 2-1 to Bayern.

Bayern rejected a $9 million offer from Barcelona for Kuffour in January 2001 and then fined the player $3,000 in March on learning he had dined with Barca representative Bernd Schuster.

Kuffour signed an extension to his contract in July 2001, pledging his future at the club until 2005.

Most Famous For: Beating the ground and weeping after Manchester United scored the winning goal in the 1999 Champions' League final.

Won: Champions League, four national titles, three German Cups, five League Cups and the Intercontinental Cup.

Moved to Ajax in January 2008 on a 6-month contract

Released by Ajax at the end of 2007-08 season