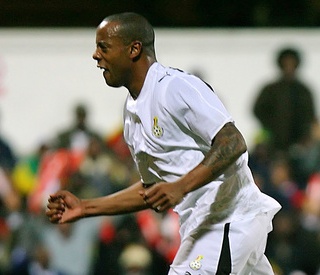 PREVIOUS CLUBS:
Barnet(ENG), San Jose (USA), Colorado Rapids (USA), Sheffield Wednesday (England), Oldham, Chester City, Chesterfield and Lincoln City, Peterborough United, Bristol Rovers, Nottingham Forest, El Zamalek(Egypt), Apollon Limassol(Cyprus), Hibernian (Scotland)
Agogo was born in Accra, but moved to London when he was 15 to be with his mother.
In 1995 while playing with a semi-pro team he was offered a tryout and later a professional contract with English Premier side Sheffield Wednesday
On opening day of the '97-'98 season, he debuted at the age of 18 in the Premiership against Newcastle United at St. James Park. In three seasons (1995-1998) while playing mostly for Wednesday's youth and reserve teams, he tallied 18, 19 and 20 goals. He was also called on to play for the Ghanaian national team a few times but for various reasons he never made the trips.
In 1998, when he seemed ready to make the jump to a permanent spot on Sheffield Wednesday's senior team, injuries caused him to lose out on most of the season. He suffered a broken foot and had two hernia operations a few months before that.
Loans took him to four lower division English clubs in 1999 (Oldham, Chester City, Chesterfield and Lincoln City) and he had good performances with each squad. But after the loan period, even when Sheffield Wednesday offered him a three-year contract, he decided he needed to move along.
Major League Soccer was an obvious choice for Agogo as his family was relocating to the U.S. from England and he has a sister living in San Diego
He has played for 11 clubs in the last 10 years, including three in the American MLS, but at Nottingham Forest he seems finally to have settled down, hitting 10 goals in 19 games this season as they challenge for promotion back to the Championship.
Although Agogo has British citizenship, he makes no secret of the fact that his "heart and soul" remain Ghanaian. His selection for the Ghana squad is a relatively recent phenomenon.
"While I was at Sheffield Wednesday they came to me there," he explained. "For some reason or other - I was young - I didn't take the opportunity and then when I came back from America and I was at Bristol Rovers, they were going to the World Cup and they called me up. I didn't make the squad for the World Cup. But since they came back I've been involved in every game."

Called up for Ghana in the 2008 African cup of nations
Pro Highlights
Joined England's Sheffield Wednesday in 1995...In 1999, was loaned to English clubs Oldham, Chester City, Chesterfield and Lincoln City...Made his professional debut with Sheffield Wednesday on opening day of the team's 1997-98 campaign, coming on as a sub in the team's 2-1 loss at Newcastle United ... Was loaned to Oldham, where he scored three goals in five matches...Was also loaned to Chester City (7 goals in 9 games), Chesterfield and Lincoln City... In 1998-99: Appeared in seven games with Sheffield Wednesday, scoring one goal ... In 1997-98: As a member of Wednesday's reserve team, registered a total of 20 goals.
How Acquired: Traded by the Rapids on June 13, 2001
Moved to Nottingham Forest in August 2006
released by Cyprus club Appollon Limassol in 2010 in the wake of a knee injury.