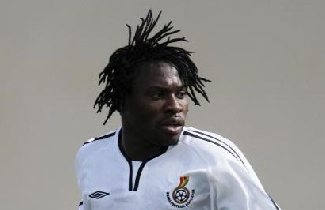 PREVIOUS CLUBS:
Olympics(GHA), PSV(NED), ?(DEN), Stade Tunis(TUN), Al-Shaab(S. Arabia), Smouha Alexandria(EGY), Hajer (Saudi Arabia), Dhufar Club
Silver medalist at 1997 U-17 world championship

Attram joined PSV after leading Ghana to second place behind Brazil at the 1997 U-17 world cup.

January 2004: Attram is now playing for shabab with six goals to his credit.

For the season 2002 to 2003 godwin attram score a great goal which was the goal of the century. in the same year his club stade tunisien won the tunis cup in which he was one of the best players. after his contract with the club, because of his performance he got contract with so many clubs. but finally he ended up in saudi arabia. he is now with al shabab football club in the kingdom of saudi arabia. godwin attram is among the top scorers in saudi arabia leagues.

2003: Due to his immigration problems with the Dutch authorities, Attram contracted to PSV until 2004 has been playing on loan in Denmark and then moved to Tunisia with Stade Tunis.
News
June 2010: Godwin Attram signed a three-years contract with the new comer Smouha Alexandria club the famous club in Alexandria finally made its way to Egyptian league for the first time in its history Attram signed coming from Al-Shaab AUE