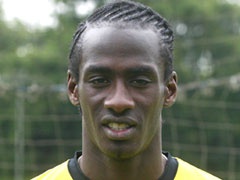 BIRTHPLACE:
Hamburg, Germany
PREVIOUS CLUBS:
FSV Mainz 05, Borussia Dortmund (1999-05), Hannover 96 (1996-99), VfL Hamburg (1993-96), Bramfelder SV (1992/93), Hamburger SV (1991/92), Hummelsbütteler SV ( > 91)
HEIGHT / WEIGHT:
188cm/80kg
July 18 2013 -- Former Ghana midfielder Otto Addo has been appointed as the new head coach of the Hamburg SV youth team and he will help groom quality football talents for the senior side.

----- Otto Addo has dual nationality, as he plays internationally for the Ghanaian football squad, but has German citizenship too.
Addo started his career in 1991, making his first high profile move to Hamburg, just a year later, before later transferring to the Hanoverian team who, at the time, were playing in the second tier of the Bundesliga. In his first season he scored seven goals in 30 games. He transferred to Borussia Dortmund in 1999 and played more than 75 times for the team. At the beginning of the 2005/06 season he transferred to FSV Mainz 05, for whom he has not as yet had time to make initial impact.
May 2005: Addo joins German side Mainz
Player who was raised in Germany and only 1999 chose to play for Ghana, coming on as a substitute against Eritrea early last year for his only cap. Signed by Dortmund from second division Hannover in the 1999 off-season, he has made an immediate impression in the Bundesliga.
From World Soccer Magazine
More often than not, the life stories of African footballers playing in Europe read as a rags-to-riches story. Not so with Otto Addo, the Borussia Dortmund forward.
Born and raised in Hamburg, he learnt his trade with a local non-league team, Hummelsbuttel, from the age of eight until third division side VfL Hamburg invited him for a trial at 17.
He was signed up and was later to shine for Second Division Hannover 96. Several First division clubs expressed interest and Borussia Dortmund won his signature in summer 1999.
"When I was younger I dreamt of playing for a big club, so when Dortmund came for me, I knew immediately that I would sign for thme, says Addo.
His first season with Dortmund was marred a relegation dogfight, but the team survived and there is optimism that new coach Matthias Sammer can boost the club's Fortune
Sammer's predecessor, Michael Skibbe, played the Ghanaian international in virtually every position except defence, though the versatile Addo prefers forward or a creative role.
Sammer seems set to grant him his wish. "This season, I will be playing as an attacker or midfielder" Add Said "The coach told me that these are positions I will play, depending on how our opponents are playing"
Since his emergence in German football, it has been suggested that he could have played for the German national team, yet Addo chose to play for Ghana. "To be honest, I never got an offer from the German team. It was only when I started playing in the First Division that people started to it was a pity I was playing for Ghana. When I was playing in the Second Division, Ghana made me an offer." If I had to choose, I would choose Ghana anyway because even though I was born and raised in Germany, I don't really feel German. I feel more Ghanaian"
As with all emerging Ghanaian attacking players, Addo has been hailed in his homeland as the new Abedi Pele. Addo is flattered by the comparison, but does not believe it is deserved. "I am glad to be compared to a player like that, but it is not right because Pele showed his class over eight or nine years. This is my first year in the Bundesliga and on the Ghana national team. I haven't done half of what Abedi Pele has done. He is a different player from me, anyway. He is more of a playmaker"
Addo joined Dortmund in 1999 from Hannover 96, but his medical problems limited him to just 75 Bundesliga appearances for the former European champions.
The midfielder has been dogged by a problem with his right knee, after suffering cruciate ligament problems on three occasions since June 2001.
tto Addo ends his career quietly Undoubtedly a great talent, Otto Addo was never able to fulfill his great potential because of injuries. He started his career with Hannover 96, by then in Bundesliga two and impressed alongside Gerald Asamoah. Unlike Asamoah, Addo decided to play for his homeland Ghana and scored 2 goals in 15 appearances. The highlight of his international career was the Worldcup 2006 in Germany. Addo was born to ghanaian parents in Hamburg. At the peak of his career he played for Borussia Dortmund where he won the league title and played in the Champions League. A scene typical for his career was a goal in the UEFA Cup with a cruciate ligament rupture (see video below). His last Bundesliga appearance was last year for Hamburger SV. Injuries forced him to quit his career this season aged 33. He is now a youth coach in Hamburg.