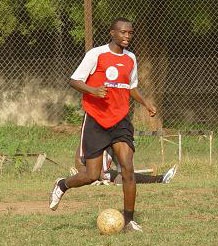 PREVIOUS CLUBS:
King Faisal Babes, Kotoko, Saturn(Russia), RTU
Illiasu began his career in Kumasi with Real Republicans - a youth club - and then King Faisal Babes, where he played in two successive campaigns in the African Confederations Cup in 2004 and 2005.
The tough tackling defender moved to glamour club Asante Kotoko and won a place in Ghana's squad for the 2006 FIFA World Cup™ finals - one of just four domestic-based players
He replaced Issah Ahmed at Kotoko in January 2006, and his performances in recent months have been enough to convince coach Ratomir Dujkovic to take him to Germany.
His prowess has not gone unnoticed internationally and former Ghana national coach Ralf Zumdick, now working at Hamburg SV, has invited the player to Germany to try out for the Bundesliga club for 2006-07 season.
Was a member of the Ghana national team that played at the world cup in 2006