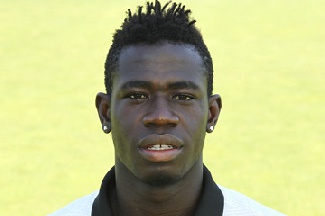 PREVIOUS CLUBS:
DC United (Ghana), Palermo, Parma, Hoffenheim, Parma,Sampdoria
GHANA DEBUT :
2012-02-29; Chile - Ghana
Living the dream is a term that is often over-used when writing about footballers, but in Afriyie Acquah's case, the terminology seems more than appropriate. The midfield general was included in the Black Stars' World Cup squad without having featured in the 2014 FIFA World Cup™ qualifying campaign and his story reads like a fairytale come true:


Living on the streets of his home town Sunyani, Acquah was discovered by scouts of the Glentoran Football Academy and invited to trials with the Northern Irish club. Regulations prevented him from being signed by the Belfast-based club and he returned to Ghana and started playing for Bechem United. He was spotted for a second time playing a friendly against Serie A club Empoli and later joined Palermo.


After early success with Palermo, he moved to Parma and was then snapped up by big-spending Bundesliga club Hoffenheim, where he struggled through and failed to play a single league match. His career took a downward spiral and the World Cup finals in Brazil seemed an unreachable dream.
A loan move back to Parma changed things though and the 22-year-old started playing regularly in Serie A.

"I dreamed about playing at the World Cup every day; every player would. Everything then happened so quickly and fast and soon my dream looked to be in sight." Having made the squad for Brazil, Acquah is now probably dreaming of playing on the world's biggest footballing stage: The World Cup finals.
Details
Early years
Acquah began his career in Glentoran Football Academy in Sunyani, Ghana, which was established by Northern Irish club Glentoran F.C. He later transferred to Bechem United as the Northern Irish club was unable to sign him, despite his travel to Belfast to train with the first team for 2 weeks. In April 2009, he played for Bechem United against Italian club Empoli.
Palermo
On 1 February 2010 Palermo signed Acquah from D.C. United of Ghana for free, but €500,000 agent fee went to SCMG Sport Consulting & Management Gmbh, (the same company that received massive agent fee for Túlio de Melo.) Palermo was fined by FIGC as it violated third-parties ownership rule in April 2012.
FIGC found that Acquah had signed a contract with the agent in June 2009 as he was unable to join any club aboard until he turned 18.
Parma
On 16 July 2012, Palermo announced to have loaned Acquah to Serie A rivals Parma F.C.; the agreement also includes an option for Parma to acquire half of the player's transfer rights by the end of the season.
Hoffenheim
In January 2013 he moved to the Bundesliga club Hoffenheim.
International career
Ghana national team
On 26 February 2012, Acquah was called up to the Ghana squad to face Chile. Acquah made his senior Ghana debut against Chile on 29 February 2012 at the PPL Park in Chester, Pennsylvania, USA. On 13 October 2012, in Civo Stadium, Lilongwe he scored a goal for Ghana against Malawi.
He was named in the Black Stars provisional 30-man squad for the World Cup Brazil, 2014.