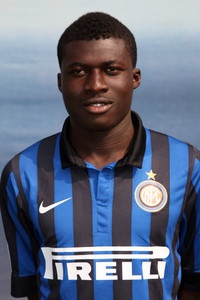 PREVIOUS CLUBS:
Inter Milan, Livorno(Italy,2, loan), Sampdoria
GHANA DEBUT :
2012-11-14 (Cape Verde 0-1 Ghana)
UEFA U19 Champions League
Although born in Accra, he has both Italian and Ghanaian passports. Duncan started playing football for Aggrey Memorial School in Ghana and was quickly spotted by Inter, he started training with them shortly before his 17th birthday and joined them officially after he turned 18.


Duncan was one of the stars of Inter Milan's 2012 Next-Gen win and converted his penalty in Inter's successful shoot-out win over Ajax in the final. He appeared on the substitute bench for the first time near the end of the 2011/12 season and consistently appeared Inter's bench in the first half of the 12/13 season before being sent out on loan to Serie B side Livorno.


While at Livorno, Duncan made himself a mainstay in the side and was instrumental as Livorno made a push for promotion, which they achieved after they beat Empoli 2-1 on aggregate in the two-legged Play-Off Final.


Already a full Ghana international after he played 45 minutes in a 1-0 friendly win against Cape Verde in November 2012, he has recently been in Turkey with the Ghana u-20 World Cup squad.


A central midfielder, Duncan is equally adept sitting in front of the back four or playing further forward in a playmaking role.
Although he has been compared to Essien, which he says he is flattered by;
Fans compare me with Essien and if I can have half of his career I will be very happy.
He is the best midfielder ever in Ghana. He played box-to-box, could break play up and could dictate play at the same time.


The midfielder himself believes it's former Inter player and current Paris Saint-Germain midfielder Thiago Motta that he most resembles;
My model is Thiago Motta, both for the way he plays and as a person, really extraordinary.
I play like him - his style and vision on the ball.


Duncan is very comfortable on the ball, has a good first touch and while he is quite happy to recycle possession he is also capable of quickly and accurately finding his wingers or strikers with either a through ball or a ball over the top for a team-mate to run on to. Although reasonably comfortable with his right foot, Duncan is predominantly left footed, with which he is capable of scoring from distance and swinging in dangerous set-pieces.


He will look to get forward across the entire width of the pitch, capable of overlapping down each wing and delivering crosses, he can also hang back outside the opposition box and give himself room to get a shot away, as well as looking to run into the box.


Standing 5'10", Duncan is very strong considering his size and is able to hold off much bigger players. A good turn of pace, coupled with good vision and awareness of his surroundings, means he is good at reading the opposition attacks and intercepting their passes, a skill which proved a vital defence against counter-attacks for Livorno. He will also use his strength to ease his opponents off the ball.


His tackling however can be a little erratic, which leads to him conceding unnecessary free kicks and while he has powerful shots, they lack consistency.
That brings us to the two biggest concerns with Duncan.


Firstly, he has a tendency to cruise through matches in second gear. Although this won't usually be a detriment to his team, as he rarely gives the ball away and will still look to set up attacks, he has the skill set which would allow him to completely dominate games but his lack of urgency may be a problem in the fast paced Premier League.


Secondly, the rumoured price which would convince Inter Milan to sell is around £10m. While that may prove to be a bargain due to how good he could end up being, it still has to be considered a risk. Although I believe he could be an asset immediately if he can add a bit more tempo to his game.