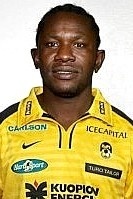 PREVIOUS CLUBS:
FC Kärnten(AUS), Polonia Warschau(POL), El Basani(ALB), AC Oulu(FIN), Oulu PS
U-17 bronze medallist winner in New Zealand

U-21 silver medalist at the World Cup in Argentina,

2015: Coach at OPS(Finland)

June 2004: Moved to Finland

August 2003; Transfered from Polonia Warzawa in the Poland Premier to El Basani Club in the Albania Premier League.

March 2003: Arrived in Poland. His club Polonia Warshau and Tradition Club-several times Champion of Poland.

January 2003: 6 month Loan from FC KÄrnten Austria (1) to Polonia Warschau (1), without a buying option.