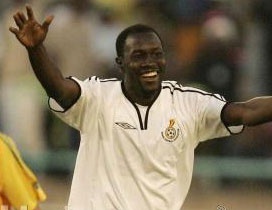 PREVIOUS CLUBS:
Gabros of Nnewi (Nigeria), El-Kanemi (Nigeria), Enyimba(NIG), Al-Nasr(Saudi), Enyimba(NIG), CS Sfaxien(TUN), BSC Young Boys(SWI), Luzern(SWI)
2002: Joint to scorer with 17 goals in the Nigerian National professional Premier League

African Champions League titles: 2003 & 2004

2 Nigerian League Titles

Highest goal scorer in the history of the African Champions League with 14 goals

October 2011: Former Black Stars striker Joetex Frimpong has started his coaching career at Swiss side BSC Young Boys.
The 29-year-old has taken charge of the coaching duties with the Under-12 team of Young Boys.
---------------- Not known in Ghana because he started his football in Nigeria. He was initially invited to the Nigerian u-23 team, but dropped when the coach was told of his nationality.

In 2002, he was crowned top scorer in the Nigerian league, while playing for relegated El-Kanemi. His feat earned him a transfer to Enyimba.

Represented Ghana at the 2006 Nations cup, but was dropped from the squad for the 2006 world cup. Frimpong rejoined the Enyimba fold, in June 2006, from Saudi Arabia after an eight month loan spell with EL Nasir Football Club.
Feb 2003: Moved to League Champions Enyimba of Aba in the Abia State
Move to Saudi Arabia in January 2006
February 2007: Moved from the Tunisian club CS Sfaxien to Young Boys on a three-year contract