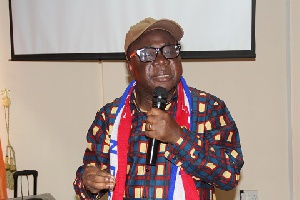 Wed, 6 Jun 2018 Source: Fred Quame Asare
The Acting National Chairman of the New Patriotic Party (NPP), Freddie Blay, has indicated that the initiative of procuring 257 new buses for the party is one of the modules aimed at making the NPP a self funding party.
Mr Blay who is contesting the National Chairmanship race noted the initiative is part of a strategy he would introduce to position the NPP to sponsor it's activities when elected.

Speaking at separate encounters with constituency executives in Ho and Sogakofe in the Volta Region, Mr Blay explained the buses upon arrival would be entrusted to a reputable transport company to manage and raise revenue, which would be injected into operations of party activities at the various constituencies.

He detailed that his strategy when accepted and supported by the NPP would not only position the NPP ahead of other political parties in the country, but would also contribute increase the party's membership drive.

"Funding a party is a major problem not only for the NPP but for all parties... we as members of the NPP prefer to find a way to fund our own party, a reliable way of making our party independence", Mr Blay said.
He appealed to the delegates to consider his effective contribution to the NPP's victory in the 2016 general elections and elect him as the next National Chairman to enable him "change the face of the NPP" with his leadership style.

Mr Blay believes his strategy would help the NPP to remain in power for over 2 decades.

Contesting 3 others for the National Chairman position, Mr Blay is optimistic of garnering 80% of total votes at the National Delegates Conference slated for 5th to 7th July in the Eastern Regional capital, Koforidua.
Source: Fred Quame Asare