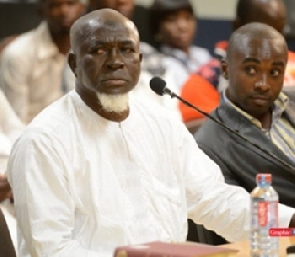 Controversial football administrator Alhaji Grusah has denied claiming that each member of the Black Stars management committee received $100,000 as an appearance fee for Ghana's participation in the 2022 World Cup.
Ghanaians have criticized Grusah and other committee members after he allegedly said that, but he has come out with a rebuttal.

"Whoever told that lie will never have peace for the rest of their lives," Grusah said as quoted by Footballghana.com

"I was asked a question by the presenter if we received $100k as appearance fees and I asked back if it is wrong for BS MC members to receive that money. Was that to confirm that we took $100k? In any case, I went on to add that we never received anything as appearance fees. So why will someone say I said we took $100k?

"Please I never said that. We will cherish it if the government will reward us for steering the nation to the World Cup but we have not received any $100k. I'm always available, anyone who wants the truth can call me to confirm."
Ghana Football Association communications director Henry Asante Twum disclosed that they received $9.5 million from FIFA.

Ghana collected three points out of a possible nine, resulting in their elimination from the group stage. The four-time African champions were defeated by Portugal. They beat South Korea before falling to Uruguay 2-0 in their final game.

Sports Minister Mustapha Ussif after the tournament claimed that an estimated $5.1 million was spent on the team's campaign.