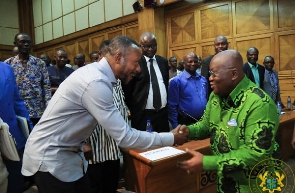 Founder of Glorious Word and Power Ministry International Rev. Propeht. Isaac Owusu Bempah, has vehemently denied receiving $12million from President Akufo Addo after he helped him spiritually to win the 2016 elections.
There have been reports suggesting that the President has parted with that whopping amount of money to his spiritual father as a thank you package for the spiritual backing he offered him [President] during that historic election which saw him winning with more than 1million votes.

Some pastors who claim to have also supported the President spiritually to win the election are reportedly unhappy that the President has been selective and has failed to acknowledge their effort and give them what is due them.

But speaking on Okay FM, Rev. Owusu Bempah stated that he has not received even a pesewa from the ruling New Patriotc Party(NPP) nor the government, adding that the allegation must be treated with the contempt that it deserves.
"No pastor should ever think that President Akufo Addo has given me money and has left them out for which reason they should feel hurt. President Akufo Addo as I know him will not even embezzle state funds let alone give out some to his friends because he did not come to steal Ghana's money rather he came to protect the public purse and use our resources to develop the country. He has a very good heart, I can vouch for the President any day. I strongly believe that Nana Akufo Addo never went out of his way to promise pastors who prayed for him ahead of the election that should he win, he'll reward them with cash.

He added: "If you are a pastor you have to always intercede for those in authority so they can rule the country well just as the Bible requires us to do and not do so expecting money as reward. This is our calling, as at today, no NPP member or government official has given me money because I backed the President spiritually. The allegation of $12million reward is absolutely false and should be treated with the contempt that it deserves."