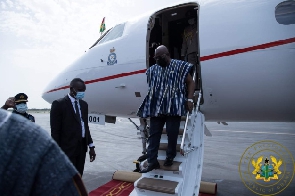 The President of the Republic, Nana Addo Dankwa Akufo-Addo, has at the invitation of the President of the Republic of Cuba, H. E. Miguel Mario Diaz-Canal Bermudez left Ghana to participate in a meeting of the G77+China.
The gathering is on the theme, S"ummit of Heads of States and Government on the Current Development Challenges: The Role of Science, Technology and Innovation," and was scheduled to be held from 15th to 16th, September, 2023 in Havana, Cuba.

From Cuba, President Akufo-Addo will from 17th to 22nd September 2023, participate in the 78th Session of the United Nations General Assembly. He is expected to deliver his statement to the Assembly on Wednesday, 20th September 2023.

At the invitation of the Director General of the International Atomic Energy Agency, Dr Rafael Mariano Grossi, President Akufo-Addo will then travel to Vienna, Austria on Monday, 25th September, 2023, to participate in the 67th regular session of the General Conference of the International Atomic Energy Agency and the commemoration of the 70th Anniversary of the Atoms of Peace Speech on 26th September, 2023.
The President was accompanied by the Minister of Foreign Affairs, Shirley Ayorkor Botchwey and officials of the Presidency and Foreign Ministry.

President Akufo-Addo will return to Ghana on Wednesday, 27th September, 2023, and in his absence, the Vice President, Alhaji Dr. Mahamudu Bawumia, shall, in accordance with Article 60(8) of the constitution, act in his stead.