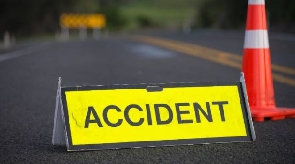 Two mini-buses collided head-on near Akorabokrom, close to Nyinahin in the Ashanti Region, resulting in critical injuries to fifteen people.
Eyewitnesses reported that both vehicles were traveling at high speed on a rainy night along the Kumasi-Bibiani Road when one of them lost control, leading to the collision according to a myjoyonline.com report.

This accident is the second occurrence within a week at the same location, raising concerns about road safety and the need for enhanced measures to prevent such incidents.

A journalist reported that people standing by assisted in transporting some of the critically wounded individuals to the Nyinahin Government Hospital.


Meanwhile, watch a snippet of GhanaWeb TV's latest program that focuses mainly on Everyday People below:





You can also watch the latest episode of People & Places on GhanaWeb TV:




Meanwhile, watch the latest episode of SayItLoud on GhanaWeb TV below:




Watch the latest edition of BizTech and Biz Headlines below:






AM/SARA