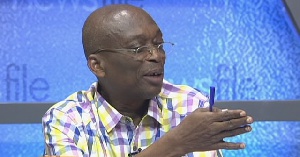 Editor-in-chief of The New Crusading Guide newspaper, Abdul Malik Kweku Baako, has disclosed that Ghana is not the only country captured in Anas Aremeyaw Anas' latest exposé on football and corruption.
According to the veteran journalist, some influential football gurus from other African countries were captured manipulating football matches across the continent.

"Kwami, you know this is not only about Ghana? 17 African countries are captured in that whole thing, football corruption," Kweku Baako told host of Peace FM's morning show, Kwami Sefa Kayi.

But he says the premiering on Wednesday is focusing on Ghana, exclusively focusing on referees, officials of the National Sports Authority (NSA) and the Ghana Football Association(GFA).

Anas's exposé, dubbed "Number 12: when misconduct and greed become the norm", has been the subject of discussion over the past weeks. The much-awaited video will be screened today, Wednesday, June 6 and Thursday June 7, 2018 at the Accra International Conference Center.


Kweku Baako also said on Peace FM's morning show 'Kokrokoo' that the British Broadcasting Corporation [BBC] is also scheduled to air the exposé on Thursday June 7, 2018.