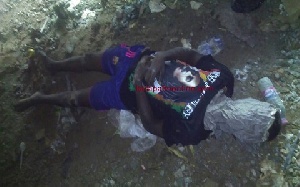 A 19-year-old boy known to be addicted to Tramadol has fallen from 4th floor of a storey building to death at Asafo market in the Ashanti Region.
The unfortunate incident which happened on Saturday August 4, 2018 has thrown residents and traders in the area into a state of shock.

The deceased named Derrick together with his friends are said to have made the uncompleted storey building their abode.
A friend of the deceased speaking to Abusua FM's Osei Kwadwo said the deceased who was reportedly high on Tramadol fell from the 4 storey building when he was coming down to buy medicine for his sick friend.

The body of the deceased has been sent to mortuary.