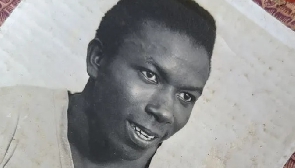 Ghanaian football legend Emmanuel Oblitey, has died at the age of 89.
Oblitey passed away on Sunday at the Joy Pecialist Medical Clinic.

He was a member of Ghana's first AFCON winning squad in 1963, where he played in all three matches.

Oblitey competed in the men's football tournament at the 1964 Summer Olympics.
At club level He had stints with Olympics, Real Republikans and was part of the Black Stars team which toured Europe in 1961.

He left behind seven children