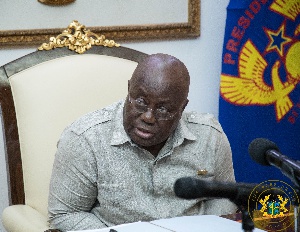 President Akufo-Addo has asked critics to go round the country and fact-check his One District One Factory projects in operation.
Addressing a Media Engagement at the seat of government on Friday, President Akufo-Addo said 58 of the companies are already in operation in certain parts of the country.

He stressed the location and nature of the factories under the 1D1F programme are a matter of records that the Doubting Thomases can check for themselves.

"…go and check for yourself whether I'm lying or telling the truth." he told Journalists at the Banquet Hall of the Jubilee House during a media encounter today, Friday, December 13, 2019 to account for his stewardship to Ghanaians.

The meeting is third since assuming power as the fifth President of Ghana.

President Akufo-Addo's interaction with the media fraternity is centred on the economy, governance, health, education, security among others.
The ongoing meeting is to afford journalists the opportunity to ask the President questions about governance so far.

This comes at a time when the Akufo-Addo-led administration is losing popularity among the Ghanaian voter captured in a research by latest Afrobarometre report.

A recent Afrobarometer report by the Ghana Centre for Democratic Development (CDD) has revealed that 4 in 10 Ghanaians, representing 42 percent would not vote if presidential and parliamentary elections were to be held today.

Compared to 2017, the proportion of respondents who said they would vote for the governing New Patriotic Party (NPP) has dwindled by 15 percentage points – from 49 percent to 34 percent – while the share who said they would vote for the main opposition National Democratic Congress (NDC) has remained unchanged (22 per cent).