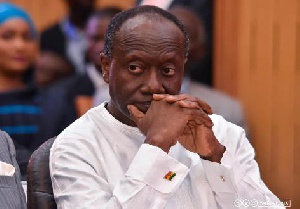 The Finance Minister Ken Ofori-Atta is expected at the Supreme Court today, March 29, 2018 over the "infamous" $2.25 billion Eurobond.
Mr Ofori-Atta was dragged together with the Commission on Human Right and Administrative Justice (CHRAJ) and the Attorney General by the Dynamic Youth Movement of Ghana (DYMOG).

Last year, the minister announced the successful issuance of 15 and seven years' bond with the coupon rate of 19.5%, raising a total of $1.13 billion.

The group stated that the bond raised the cedi equivalent of $1.12 billion in five years and 10 years bonds via a tap in arrangement meaning the total amount raised through the bonds as of April 3, 2017 was $2.25 billion.

On April 25, last year, a citizen, Yaw Brogya Genfi, petitioned CHRAJ to investigate the bond transaction because he suspects that the Finance Minister was involved in what he described as "conflict of interest."

CHRAJ, after five months of investigation, cleared the minister with directives in relation to the bond issuance in order to ensure transparency and clarity.

But, DYMOG has taken a swipe at the clearance of the minister by CHRAJ and has therefore filed a suit at the Supreme Court dragging CHRAJ and two others in the action premised on Article 130(1)(a)of the 1992 Constitution.




RELIEFS

The group is seeking, "A declaration that by going beyond investigations to make a pronouncement (of guilt or otherwise) on the 1st Defendant (Minister) in respect of the allegations of breach of conflict of interest, the 2nd Defendant (CHRAJ) has contravened article 287 of the 1992 constitution.

It said, "By interpretation of Article 284 of the 1992 Constitution (as disclosed in paragraph 3 on page 127 and paragraph 3 on page 133 of the report). The second defendant has contravened Article 130 (1) (a) of the 1992 Constitution.

"A consequential order that the context of the report as specified in reliefs (a) and (b) above be expunged from the report;
"A declaration of the failure of the 1st Defendant to declare his shareholding interest in Data Bank Financial Services Limited, Data Bank Brokerage Limited and Data Bank Financial Holdings Limited to the Auditor General before talking office as Minister of Finance , as found by the 2nd Defendant on page 120 of the report, contravenes article 286(1)(a) of the 1992 Constitution;



It is also asking for "A declaration that the occupation by the 1st Defendant of the office of a director in Ventures and Acquisition Limited, a private company, while in office as the minister responsible for finance without the due permission of the Right Honorable Speaker of Parliament on the grounds stated by the law, contravenes Articles 78(3) of the 1992 Constitution; and

"A declaration that by issuing or overseeing the issuance of the said bonds to Templeton without disclosing his relational interest with a director atTempleton,OneTrevor G. Trefgarne, the 1st Defendant has acted in contravention of Article 284 of the 1992 Constitution and any other reliefs that this Honorable court deems fit under the circumstances."