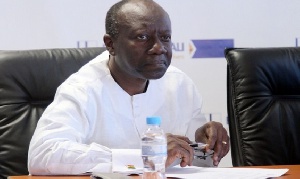 Sat, 30 Dec 2017 Source: Daniel Kaku
The Founder and President of Concerned Voters Movement (CVM), Mr. Razak Kojo Opoku has dared the opposition National Democratic Congress (NDC) to proceed to court if they believe Finance Minister, Mr. Ken Ofori-Atta faulted during the issuance of the bond.
A member of the National Democratic Congress (NDC), Brogya Genfi, petitioned CHRAJ in April 2017 to investigate the Finance Minister, Ken Ofori-Atta's position during the issuance the US$ 2.5 billion bond.

In its 141-page report, CHRAJ said although it found concrete evidence on conflict of interest against the Minister, he (Ken Ofori-Atta) breached several procedures.

Meanwhile, the petitioner, Yaw Brogya Genfi has revealed to the general public that he is studying the report with his lawyers hence in due course would speak out.

"Contrary to media reportage that the Finance Minister has been exonerated of wrongdoing, the evidence so far indicts him of several illegalities which constitutes enough grounds for his removal from office", he emphasized.

Responding to the development,Mr. Razak Kojo Opoku has dared members of the opposition to take legal action if they claim to have proof of wrongdoing on the part of the Finance Minister.

"Any NDC member or a Ghanaian who feels that Hon. Ken Ofori-Atta has done something wrong can proceed to Court for answers", he said.
According to him, "Hon. Ken Ofori-Atta is a blameless Lamb who continues presence at the Ministry of Finance has becomes a threat to the survival of the NDC".

"Hon. Ken Ofori-Atta is indeed one of the Saviours of Ghana's Economy ", he added.

He also added that, the Commission on Human Rights and Administrative Justice (CHRAJ) led by Joseph Whittal who was appointed by former President John Mahama after the 2016 general elections, has cleared Hon. Ken Ofori-Atta of any wrongdoing over the $2.25 billion bond.

"As expected, the lousy NDC members are making ugly noise about it. The NDC are refusing to accept the reality and as usual dwelling on CHRAJ recommendations to incriminate Hon. Ken Ofori-Atta, the Finance Minister", he chided.

He explained that, "According to the NDC, the only crime committed by Ken Ofori-Atta is about his economic super intelligence to raise that $2.25 billion bond within such shortest possible period which gave some breathing space to President Akufo-Addo's Government due to the fact John Mahama's Administration left behind a totally collapsed and crippled Economy".

"A three day born baby will even argue that the NDC members who are 'senseless noise' about the $2.25 billion domestic bond maybe having inability to study the report and understand it", he stated.
Source: Daniel Kaku