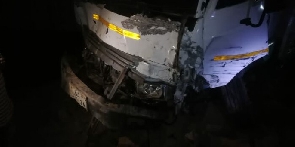 An accident occurred Friday (8 September) on the Wenchi-Techiman highway, killing two people and leaving three others in critical condition.
The victims, all males, were on their way from Wenchi to Asuogya when their Okada tricycle, registered as M-21-BW876, was involved in a head-on collision with a Kia Rhino with registration number BA 379-14. The Kia Rhino was travelling in the opposite direction.

A man and a woman, accompanied by their one-year-old daughter, sustained critical injuries and were promptly rushed to the Wenchi Methodist Hospital for immediate medical attention.

Sources suggest that one of the deceased may have been a student at Techiman Senior High School, located in the Bono East Regional capital.
According to an eyewitness account, the driver of the Kia Rhino lost control while attempting to evade potholes on the road, leading to the tragic collision with the Okada tricycle.

This stretch of the road has been plagued by road accidents attributed to potholes and the poor condition of the Techiman-Wenchi-Wa highway.

The Motor Transport and Traffic Department (MTTD) of the Ghana Police Service has refrained from providing an official statement regarding the incident.