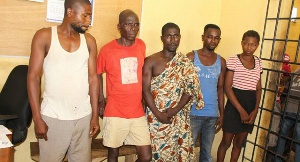 The Amasaman Police have apprehended six persons for causing damage to two police vehicles during a clash between the youth of Katapor and some followers of a fetish priest.
The six, according to ACP Francis Yiribaare, Commander of the Amasaman Police Division, also injured three policemen deployed to the scene.

The suspects are Torgbui Adama, Mary Ezor, 22, Kobby Mensah, 35, Noah Megbenu, 30, Edo Sako, 55 and Paa Nii Doe, 39.

The injured police personnel, two from Amasaman Division and another from the Pokuase District Police, who were treated and discharged by the Amasaman Government Hospital.

Narrating the incident to DAILY GUIDE, ACP Yirebaare said around 9:40pm on Sunday, police had information that some youth had attacked a fetish priest at Katapor, a suburb of Pokuase.

To avert bloodbath, two police patrol teams were dispatched to the scene.
When the team got to the house of the said fetish priest identified as Torgbui, he had been severally beaten by the youth of the town, the police chief stated.

The patrol team advised him to lodge an official complaint with the Pokuase Police and continued to patrol the area.

While the team was on patrol in the area, the townfolks massed up in the middle of the road leading to Pokuase and started throwing stones and other items at the police.

"They vandalized two operational cars in the process while three of the personnel sustained various degrees of injury, the police commander said.

He noted that the youth took the action to force Togbui Adama to leave the town.
ACP Yiribaare said they called for reinforcement and managed to arrest five suspects, including Mary Azo, who allegedly bit the finger of one of the police officers.

Police investigations also led to the arrest of Torgbui Adama, who was also seen wielding an AK 47 rifle.

The six suspects, who have been detained at the station, have been provisionally charged with rioting, causing damage and harm.

He confirmed that the matter is still under investigations.

The paper has gathered that the commotion was caused by followers of two rival fetish priests in the area.