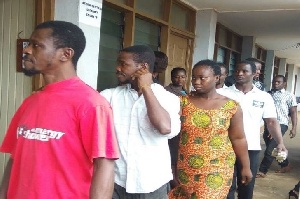 The Accra Central Magistrate court has adjourned the murder case of Major Mahama to 7th September for the Attorney General's advice.
The 20 accused persons are therefore going to spend one month at Nsawam prisons.

The Magistrate, Ebenezer Kwaku Ansah remanded the twenty people to the Nsawam prisons after prosecution told the court that investigation is still ongoing.

The twenty have been charged with conspiracy to commit murder and murder.

Background
The deceased, Major Mahama, an officer of the 5th Infantry Battalion, is said to have been on his daily jogging routine on Monday [May 29, 2017], when some angry youth of the town attacked him, allegedly on suspicion of being an armed robber.

The Police subsequently arrested over fifty suspects who had fled the town to other regions in the country.

The court earlier ordered the police to relocate seventeen-year-old boy, Ebenezer Asamoah, one of the suspects to a borstal home when he is remanded until the police are able to establish that he is eighteen.

At a previous hearing on July 6, 2017, 13 out of 32 were discharged. Their discharge followed a decision by the state to have them released.