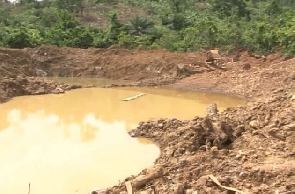 A young man named Joe died in the eastern region of Abuakwa South municipality after falling into a galamsey pit at Akyem Apedwa's new town.
According to eyewitness Nana Odehye Obiri Yeboah, the late Joe and his two friends went in search of gold, but Joe reportedly fell into a pit and died because his friends couldn't save him.

Nana Odehye Obiri Yeboah urged the government and various operation calm life task forces to intervene and ensure that all galamsey operators are apprehended and prosecuted.

He stated that there were currently death traps in the area due to illegal mining activities.
"This is a true story. Three young men went gold prospecting in an old galamsey pit. One of them, however, fell into the pit. They were unable to save him and returned home to inform us. The community's elders were notified. Before the body could be rescued, the traditional priest and other leaders went to the scene and performed some rites. Before the rites were performed, the Police were also notified.

He revealed on Nyankonton Mu Nsem on Rainbow Radio 87.5Fm that it took several days before the body was retrieved.

"The presence of galamsey in the area is concerning. We are requesting that authorities step in and address the issue of galamsey. The galamsey pits in the area are now death traps, and we can't entertain that in the area anymore."