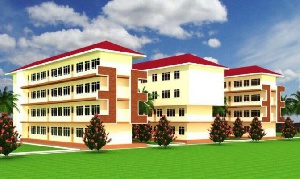 President John Mahama has said his government's quest to build 200 Community Day Senior High Schools across the country is the biggest ever intervention any government has made to Ghana's educational sector.
Delivering the last of his first term's State of the Nation Address to Parliament on Thursday February 25, Mr Mahama said 123 of the schools were at different stages of completion.

Four of the schools have been completed so far and inaugurated by the president. The schools were a campaign promise made by Mr Mahama ahead of the 2012 general elections.

Speaking on other aspects of the country's educational sector, Mr Mahama said 54,800 children, who would have been deprived of access to education, have been enrolled in schools in four of the country's 10 regions through the Compulsory Education programme.
Additionally, uniforms, textbooks and sandals (10,000) have been distributed to pupils in some impoverished schools across the country.

Mr Mahama said under his instruction last year, textbooks were now being printed in Ghana, creating 1,400 direct jobs for Ghanaians.