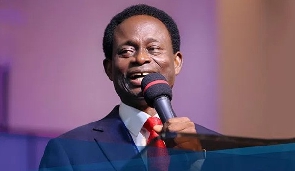 The Chairman of the Board of Trustees of the National Cathedral of Ghana, Apostle Prof. Opoku Onyinah, has touted the employment the construction of the cathedral will bring to Ghanaians.
According to him, should the construction of the cathedral continue, at least 2000 Ghanaians would have jobs.

"If the construction of the cathedral was ongoing at least 2000 people will have jobs. They will be working for 24 hours on a shift basis, with at least 600 people per shift.

"So now, because the works at the cathedral have stalled due to a lack of funds, all these people don't have jobs. This is a big project," he said in Twi in an Okay FM interview monitored by GhanaWeb.

Apostle Onyinah, a former chairman of the Church of Pentecost, however, indicated that the designers of the project are still working behind closed doors.

"Davide Adjaye (the architect of the cathedral) because he is Ghanaian and has seen what is going on, he is still working behind closed doors," he added.

Meanwhile, the Director of the National Cathedral, Dr Paul Opoku Mensah, has explained that works on the cathedral project have now stalled because the steel structure needed for the completion of the project cost $100 million which has not been raised yet.
"After finishing the foundation, we need money that we will use to import all the steel we need. The steel component of the cathedral will be built before it is brought into the country for us to fix.

"We need about $100 to import the steel. The cathedral is not a small building. It will be a structure, we have never seen in Ghana before," he said in Twi.

Watch the interview below:



You can also watch the latest episode of People & Places on GhanaWeb TV:




IB/OGB