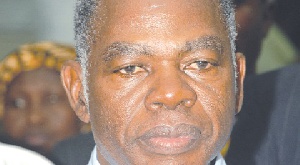 The 2016 Presidential Candidate of the Peoples National Convention (PNC) Dr Edward Nasigri Mahama has said he did not receive support from his party going into that crucial election that saw the PNC performing abysmally.
According to the renowned gynecologist, it was evidently clear that some of his own national executives worked against him during the campaign at a time he'd given his all for the PNC's interest.

General Secretary of the PNC, Atik Mohammed in an interview on Anopa Kasapa on Kasapa FM Tuesday announced that the party will hold an emergency meeting to take a decision over their Leader's acceptance of a position in the Akufo-Addo led government without informing the party.

He said, the news has come as shock to the party leadership as they were left in the dark by their five-time Presidential candidate over his new appointment.

Dr. Edward Nasigri Mahama was on Monday, July 10, 2017, assigned ambassadorial role by the President of the land. His portfolio, Ambassador at Large, was granted him at an event held at the Flagstaff House in Accra on Monday, July 10, 2017.

The instrument that goes with the office was also handed to him by the President. He was among 21 persons who received their credentials to serve as Ambassadors.

Dr. Mahama, Kasapafmonline.com understands, was invited in January by the President to discuss how best he could also help the country to develop.
Their discussions were centered on ambassadorial role, thus, Ambassador at Large, of which he willingly accepted. Ambassador at Large is an Ambassador with special duties not appointed to a particular country.

However, reacting to Atik's comments, Dr Mahama admitted to not formally briefing the entire leadership of the party over his new role, but said he'd mentioned the matter to some of the executives individually. Dismissing suggestions that he's sold the PNC to the NPP following his acceptance of the appointment, Dr Mahama said he's not happy with the treatment handed him by the PNC executives during the elections.

"During the campaign, I knew that some of them[executives] were not supporting me and the performance of the party in the election reflects that. Because if you look at my performance as an individual at the Presidential debates the votes I got at the election are not commensurate. Everybody was saying this, if you go back and look at the tapes…the GTV debates I appeared there twice, and I was asked…your executives are not behind you, how can you win? In Bolga, Tamale and Kumasi, everywhere I went they asked me that and I have the tapes."

He added: "Even Madam Charlotte Osei mentioned the problems that we had as a party. If they are accusing me from their perspective, I have no problem with that, I'm a full blooded PNC. But I don't live in the past, I've been given a charge by the President of Ghana and I'll like to first thank God, thank him [president] and I hope I'll work in this new role to the glory of God and to the satisfaction of President Akufo Addo."