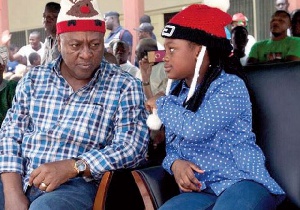 Former President John Dramani Mahama, has revealed that his 9-year-old daughter, Farida, was "very happy" happy after he lost the 2016 presidential polls to Nana Akufo-Addo, the then candidate of the New Patriotic Party (NPP).
Recounting events after the defeat, Mr Mahama said: "I remember the day after I had handed over – this was the 8th of January – I woke up in the morning and remembered there was no office to go to."

He continued: "So, I relaxed in my bed and turned on the TV, watching CNN. I spent the whole day watching TV at the time Donald Trump was the President-elect, and they were going through the transition, waiting to hand over; so, I just kept watching what was going on".

Mr Mahama who delivered a lecture during a graduation ceremony at the Institute of Security Studies in Nigeria on Thursday, November 2 said: "My daughter, Farida, who had gone to school in the morning, arrived in the afternoon. She found me lying in bed which was unusual, because when I was President we could go a whole week without seeing each other."

"She leaves the house early in the morning to be able to get to school on time, by which time I probably had not gotten out of bed. She gets back home late afternoon, and I am in the Office and I get back in the night when she is asleep. So, we could go the whole week without seeing each other. For the first time, she came back from school and there I was lying on my bed and watching television."

Below is what ensued between John Mahama and his daughter:

Farida: Daddy, didn't you go to the Office?
John Mahama: No, don't you remember that I handed over to President Akufo-Addo yesterday?

Farida: OK; so it means you are not going to the Office anymore?

John Mahama: No, I have no Office to go to

Farida: Then I am happy! So will I be coming home from school and meeting you in the house?

John Mahama: Yes

Farida: Then I am very happy that you lost the elections!