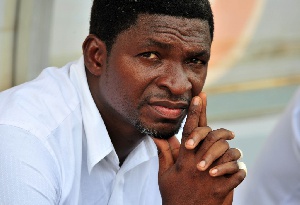 Head of coach of Ghana's home based senior national team (Black Stars B), Maxwell Kondadu, says he is not worried about their latest defeat against Nigeria but is more focused on Thursday semifinal clash in the ongoing 2017 WAFU Cup of Nations.
Ghana suffered their first defeat of this year's tournament against West Africa African rivals Nigeria but the defeat didn't affect their progress into the next round of the competition having already secured qualification.

According to Konadu, things didn't go as planned against Nigeria but has tuned focus to the semifinals of the competition.

"The game against Nigeria was a difficult one but yet still I have to congratulate the boys for what they did on the field, even though we lost the game having played

through a lot of difficulties.
"I also congratulate Nigeria they took their chances. It was a day that nothing really worked for us but we will go back, rest and recover well and get ourselves prepared for

Thursday," Konadu said in a post match interview.

Ghana will know their opponent today when the final round of matches take place in group B, where Benin face Niger whilst Senegal take on Ivory Coast.