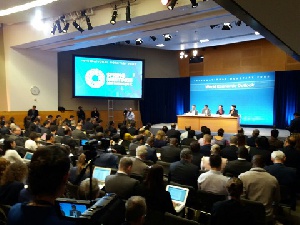 Wed, 19 Apr 2017 Source: Famous Kwesi Atitsogbe
The 2017 world Bank/IMF spring meetings are currently ongoing in the United States capital of Washington DC.
The event scheduled from April 18 to April 23 is expected to host thousands of people from governments, civil society, academia, media, financial institutions and the private sector to discuss trade, business, financial policies and global economic and development issues.

World Economic Outlook

Speaking on the world economic outlook on Tuesday, Economic counsellor and Director of the research department of the IMF, Maurice Obstfeld projected that the world economy will grow at a pace of 3.5 percent in 2017 up from 3.1 percent last year and 3.8 percent in 2018.

These growth, he said will be broad based across advanced, emerging and low income economies with focus on manufacturing and trade. He added that, this year's projection is higher compared to last year because of good economic news from Europe and Asia and expected high growth in the United States.

However, in the middle East, Africa and Latin America, there will be continued struggles with growth rates this year because of challenges with commodity exports, civil unrests and adverse weather conditions.
Ghana's participation

A Ghanaian delegation made up of the Vice President, Dr Mahamadu Bawunia, Finance Minister, Ken Ofori-Atta, BoG Governor, Dr Ernest Addison and Chairman of the Finance Committee in Parliament, Dr Mark Assibey Yeboah among other officials of the Finance Ministry are expected to attend the event.

The team will hold meetings with World Bank President, Jim Yong Kim as IMF Managing Director, Christian Lagarde on important policy and governance issues and Ghana's prospects for economic recovery.

They will also engage in bilateral and multilateral meetings with partner countries, financial institutions, investors and the private sector on investment opportunities in Ghana.

By: Famous Kwesi Atitsogbe, Washington DC
Source: Famous Kwesi Atitsogbe