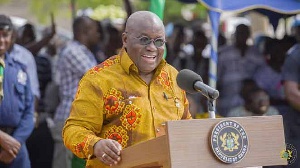 The 2018 budget will announce significant electricity tariff review and reduction to help boost the industrial sector, President Akufo Addo has assured industry players.
Delivering a speech at the 6th Association of Ghana Industries (AGI) and Quality Awards, an event organized by the Association in collaboration with the Ministry of Trade and Industry and Ghana Standards Authority at the Banquet Hall of the State House, President Akufo Addo said the effects of the rapidly emerging foreign markets on the Ghanaian economy require that government introduces policies that would offer all the help Ghanaian industries need to stay competitive.

The 2018 budget will be presented before Parliament on the 15th of November 2017 by the Finance Minister, Ken Ofori Atta.

The President hinted that as part of efforts to develop new growth poles in the economy, an Integrated Bauxite and Aluminum Development Authority will be considered by Parliament during its current sitting to pave way for the exploitation of the entire value chain of the considerable Bauxite deposits of the Country.

In addition, an Iron and Steel Development Authority will also be created to do same for the iron ore deposits of the country.

Key Awards
In total 28 awards were given to deserving companies. The key award categories include Overall Best Industry Company of the Year; Best Corporate Social Responsibility Company; Best Company Employer of the Year; Young Enterprise Company (Innovation and Entrepreneurship Award); Fastest Growing Company of the Year; and Best Practices in Sustainable Manufacturing Company.

Sector Awards

The sectors include agribusiness, automotive & transport, chemicals, electricals & electronics, energy, food & beverages, financial services, garments, textiles & leather, hospitality & tourism, Information, Communication & Technology, metals, building & construction, oil & gas services, pharmaceuticals, printing, rubber & plastics, toiletries & cosmetics, and wood processing.

Award Winners

The Overall Best Industrial Company of the Year award for the first time went to an indigenous Ghanaian company, Tropical Cable Ghana Limited.
Other awardees include Best company employer of the year, Dangote Cement Limited, Best Corporate Social Responsible Company of the year, Nkonkopa Cocoa Buying Ghana Limited.

Best Social Enterprise was secured by Autism Awareness Care and Treatment. The Young Enterprise award went to Global Poly Ghana Limited, while the fastest growing company of the year was taken by Dannex Limited. Best practices in Sustainable Manufacturing, Guinness Ghana limited.

National Best Quality Award, Diamond category, went to Total Petroleum Limited. The National Best Quality Award, Gold category was taken by Ever Pure Ghana Limited and the National Best Quality Award, overall best quality went to Total Petroleum Ghana Limited.