2019 video of Elmina chief explaining why police take 'funeral donations' resurfaces on social media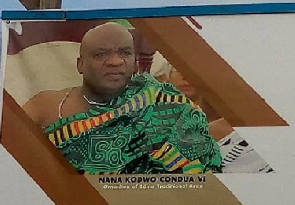 The Paramount Chief of the Elmina Traditional Area, Nana Kodwo Conduah VI, has defended police against serial accusations of being corrupt.
He admits that police officers often receive monies from members of the public but explains that such monies cannot be classified as bribes but rather as funeral donations.

He explained, in a video clip that has gone viral on Twitter (now X) that it was not for nothing that policemen wore black uniforms, that it was because they are constantly mourning.

"The policemen who are standing here, they are our protectors. I repeatedly beg Ghanaians to stop sullying their reputation with claims that they take bribes.

"As I end my address, no policeman takes bribes. Policemen don't take bribe. They wear black uniforms so whatever you give them is akin to funeral donations," he stated to laughter.
The video has elicited lots of reactions as people mock the police and applaud the chief's sense of humour.

Police have serially ranked low in corruption perception reports even as the current police administration says it is working to cleanse that bad public perception.

Watch his remarks below:


Ohene wei paaa ???????????? pic.twitter.com/FnwX23lgPR

— Donsummerone (@donsummerone) September 16, 2023