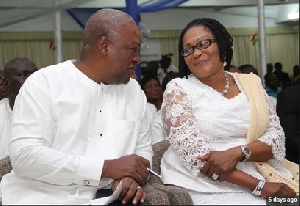 Former President, John Dramani Mahama has the leanest chances at regaining power from the ruling NPP government in the 2020 elections considering his consistent disgraceful statements, so much so that even his wife, Former first Lady, Lordina Mahama has lost hope, New Patriotic Party (NPP) Communications Officer in South Africa, Ernest Asare Gyan has said.
Mr. Asare Gyan believes Mr. Mahama's recent conducts make it such that he barely has any favor in the eyes of Ghanaians. He asserts that even the former first lady will reject the offer as a running mate to her own husband should she be given the opportunity.

"NDC party is determined to bring Mahama to power but let me tell you something, even right now, if they call Mahama's wife, Lordina to be his running mate, she will not accept the offer, why? Because she doesn't have any hope in her husband that he will win the 2020 elections. The only person Mahama can use as his running mate is Asiedu Nketia and if Asiedu Nketia takes that position, even a dog will not vote for them, so the NPP government does not need to train thugs before winning the 2020 elections" he stated.

Mr. Asare Gyan made this indication on South Africa based – Press Radio current affairs programe dubbed "Ghana Te Sen" hosted by Kwaku Anane Junior on Saturday, 12th October, 2019.

His comment comes after former President Mahama alleged that the government is training thugs to disrupt 2020 polls.

Mr. Mahama said he knows of a letter by the Upper West Security Council requesting that some members of the governing NPP be presented for combat training for next year's election.
According to him, after following up on that letter, it has emerged that the party indeed has sent these executives to Asutuare in the Greater Accra Region to be trained.

But Mr. Asare Gyan, respponding to the allegations said the NPP is not a violent party and has no history of violence, as such, it doesn't plan to engage in any such acts.

He has, therefore, asked Mr Mahama to visit Asutuare and get himself abreast as a leader of a party rather than being mischievous.

Adding that, the party was focused on winning the 2020 election, free and fair, and will not allow the NDC to tarnish the party's image.